Final ENVRI week
March 25, 2019

-

March 29, 2019
Final ENVRI week
8th and final ENVRI week will be organized in Helsinki, Finland from 25th until 29th of March 2019
What is ENVRI week?
ENVRI week is a week dedicated to Environmental Research Infrastructures. It is organized twice a year. ENVRI week hosts ENVRIplus project related sessions as well as several other sessions targeting different groups of stakeholders.
AGENDA
An outline of the agenda can be downloaded from here.
REGISTRATION 
The registration site can be accessed here. Please, register as soon as possible, latest by March 11.
MEETING VENUES
25 – 26.03.2019  and  28 – 29.03.2019
FINNISH METEOROLOGICAL INSTITUTE (FMI)
Address: Erik Palménin aukio 1
00101 HELSINKI, FINLAND
Phone: +358 29 539 2141
Website: https://en.ilmatieteenlaitos.fi/administration
HOW TO GET FROM HELSINKI CITY CENTER TO FMI
From Central Railway Station (Helsingin Päärautatieasema)
By bus: 75, 78, 717, 717A, 722, 724, 731, 739, 739V, 787
Leaves from platform 3, Stop ID: 2043  (every 5 min.). The trip takes about 14 min. – 6 stops: Hägnäs, Aspnäs, Sörnäinen, Ristikkokatu, Paavalinkirkko, Kumpulan kampus.
Walking instructions to get from the bus stop to Finnish Meteorological Institute

27 – 28.03.2019
OODI HELSINKI CENTRAL LIBRARY
Address: Töölönlahdenkatu 4,
00100 HELSINKI, FINLAND
Website: https://www.oodihelsinki.fi/en/what-is-oodi/
HOW TO GET TO OODI HELSINKI CENTRAL LIBRARY
Oodi Central Library is located within 6-minute walking distance from Helsinki Central Railway Station.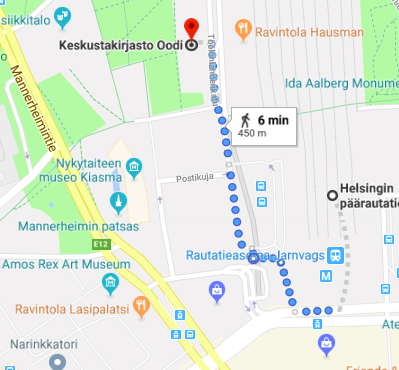 ACCOMMODATION
We are still negotiating a better quote with the hotels in the center of Helsinki  – we will update the information here as soon as possible.
TRANSPORTATION
HOW TO GET FROM HELSINKI AIRPORT TO THE HELSINKI CITY CENTER
The Helsinki city center is about 20 km from Helsinki-Vantaa airport. It is easy to reach and it takes 30 minutes by public transportation or by taxi.
BY AIRPORT TRAIN:
The fastest way to get to the Helsinki Central Railway station (Helsingin Päärautatieasema) is to take commuter train I. The Helsinki Airport Railway station is located at the end of Terminal 2, you can notice the signboard "Railway Station".
At the airport you can buy a train ticket from the following spots:
HSL ticket automates (by the entrance of the terminals and train station). Please note that some ticket machine only accepts bank card or credit card and no cash especially on the airport train platform. If you want to pay by cash you have to look for the ticket machine which accepts it at Terminal 2.
Alepa Grocery Store (T2 Arrivals Hall 2B)
WH Smith (T1 Departure Hall)
WH Smith (T2 Departure Hall)
R-kioski (T2 Arrivals Hall 2A)
Tourist information (T2 Arrivals Hall 2A)
HSL Mobile Ticket app
NB! Please note that it is not possible to buy a ticket on the train.
The single ticket costs 5 EUR. Remember that your ticket is valid for 1,5 hours from purchasing time and you can use it in any public transport in Helsinki.
When you are buying a ticket from the airport to Helsinki you don't need to choose travel area, but when you are traveling back from Helsinki to the airport you will need to choose Region two-zone as a travel area.
BY BUS:
Line 615 and the Finnair City Bus operate between Helsinki Railway Station and the airport.
Helsinki Bus 615 run by HSL will take you from the airport to the Helsinki center in 40-50 minutes. In Helsinki you will stop at Rautatientori Bus stop right in front of Helsinki Central Railway station.
The ticket costs 5,5 EUR if you pay directly to the bus driver and 5 EUR if you purchase the ticket from the ticket machine.
Please note, if you are paying with the cash at the bus prepare exact amount as the bus driver is not obliged to received note more than 20 EUR.
Finnair City Bus operates by Pohjolan Liikenne is an express shuttle bus service that leaves Helsinki Airport every 20 min from Finnair Bus Stop outside Terminal 2. In Helsinki it stops at Eliel Square next to the Central Railway Station.
Tickets can be purchased beforehand in the online shop. A single trip ticket costs 6,80 EUR.  The e-tickets valid on any Finnair City Bus service in either direction. There are one way and return tickets available. The tickets are valid for 6 months from the purchase.
Tickets can also be bought from the driver onboard the bus. Payment onboard the bus is accepted in cash or with most common credit cards. It this case the ticket will cost 6,90 EUR.
Line 617 operates between the Hakaniemi market square and the airport on rush hours from Monday to Friday.
Bus stops:
Bus stop 10: Finnair City Bus
Bus stop 25: Bus 615 to Helsinki Central railway station, 617 to Hakaniementori, 415N to Elielinaukio and 562N to Mellunmäki
HSL buses will drop off and pick up passengers only in front of T2 at Helsinki Airport. The change affects all of HSL's bus routes to the airport, meaning routes 415, 415N, 561, 562N, 615 and 617.
When will the next bus or train depart from Helsinki Airport? See here
The timetables of trains and buses in the Helsinki metropolitan area are available in the HSL Journey Planner. You can also track your trip using Google map.
More information about public transportation in Helsinki you can find here.
BY TAXI:
There is a taxi counter in Terminal 2 where you can order a taxi or ask questions. There will be several taxi lines outside Terminal 2. The taxi from Helsinki airport to the city center would cost between 45 and 55 EUR, taxi to Kumpula campus will cost around 35€.
WHAT TO SEE IN HELSINKI
Sibelius Monument
The world-famous composer Jean Sibelius' (1865-1957) monument by Eila Hiltunen is located at the Sibelius park. It was unveiled 7 September 1967. The Sibelius Monument, resembling organ pipes, is made of welded steel with over 600 pipes and with the bust of the composer on one side. The monument is one of Helsinki's most popular statues and one of the most well-known tourist attractions.
Temppeliaukio Rock Church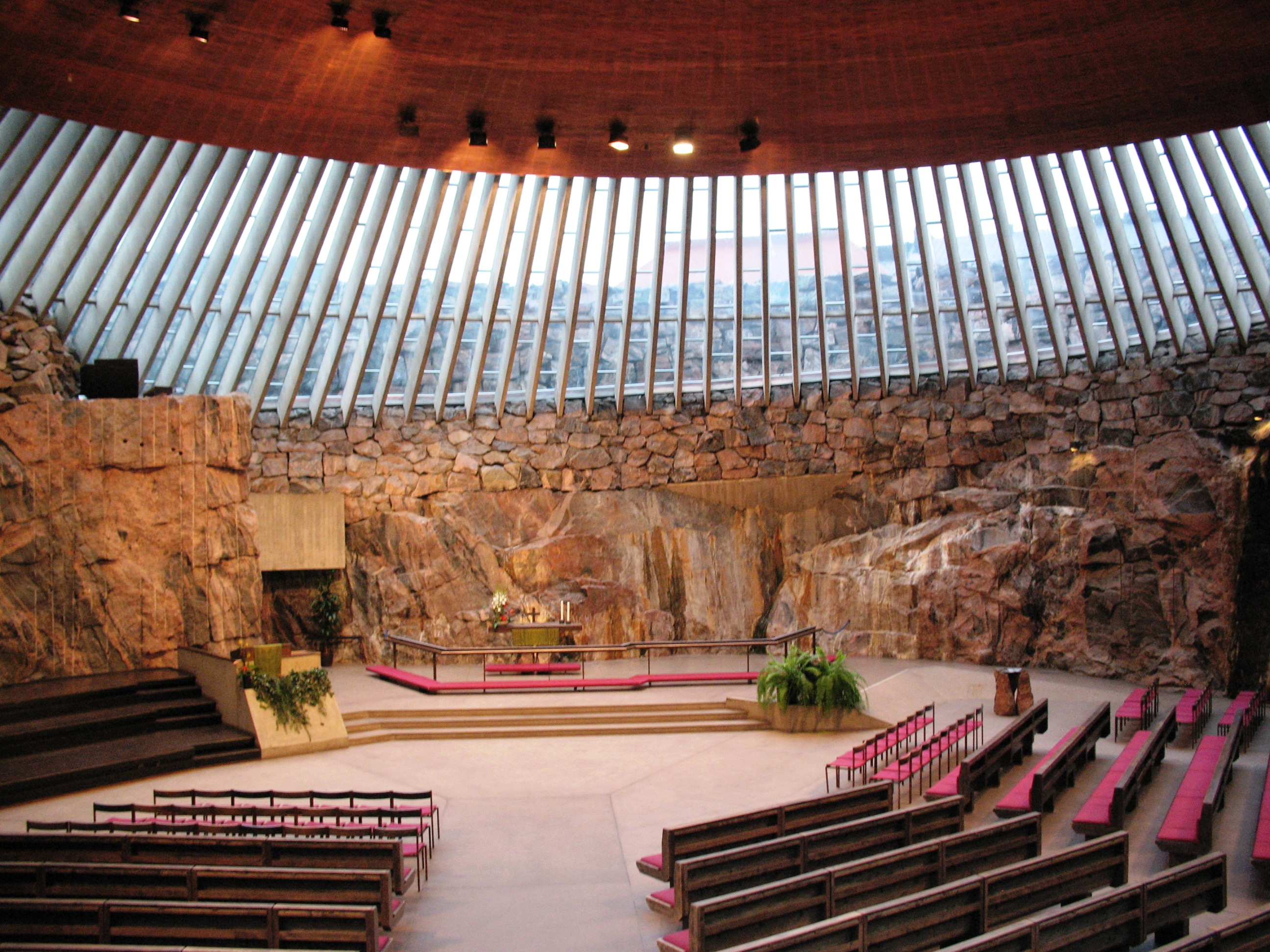 Excavated directly into solid rock, the Temppeliaukio church is situated in the heart of Helsinki, at the end of Fredrikinkatu. Because of its special architecture, the church, completed in 1969, is one of the main attractions in Helsinki. The church hall is covered with a dome, lined with copper and supported on the rock walls by reinforced concrete beams. The interior walls are of rugged rock and rubble wall. Before noon, the light spreads from the row of windows surrounding the roof periphery to the altar wall, where an ice-age crevice serves as the altarpiece. Due to its excellent acoustics the church is a popular venue for concerts.
National Museum of Finland
The National Museum of Finland illustrates Finnish history from prehistoric times to the 19th century. The museum's unique exhibits tell of life from a period of over 10 000 years. Temporary exhibitions on current themes and an interactive exhibition Vintti, where one can experience history by doing oneself. The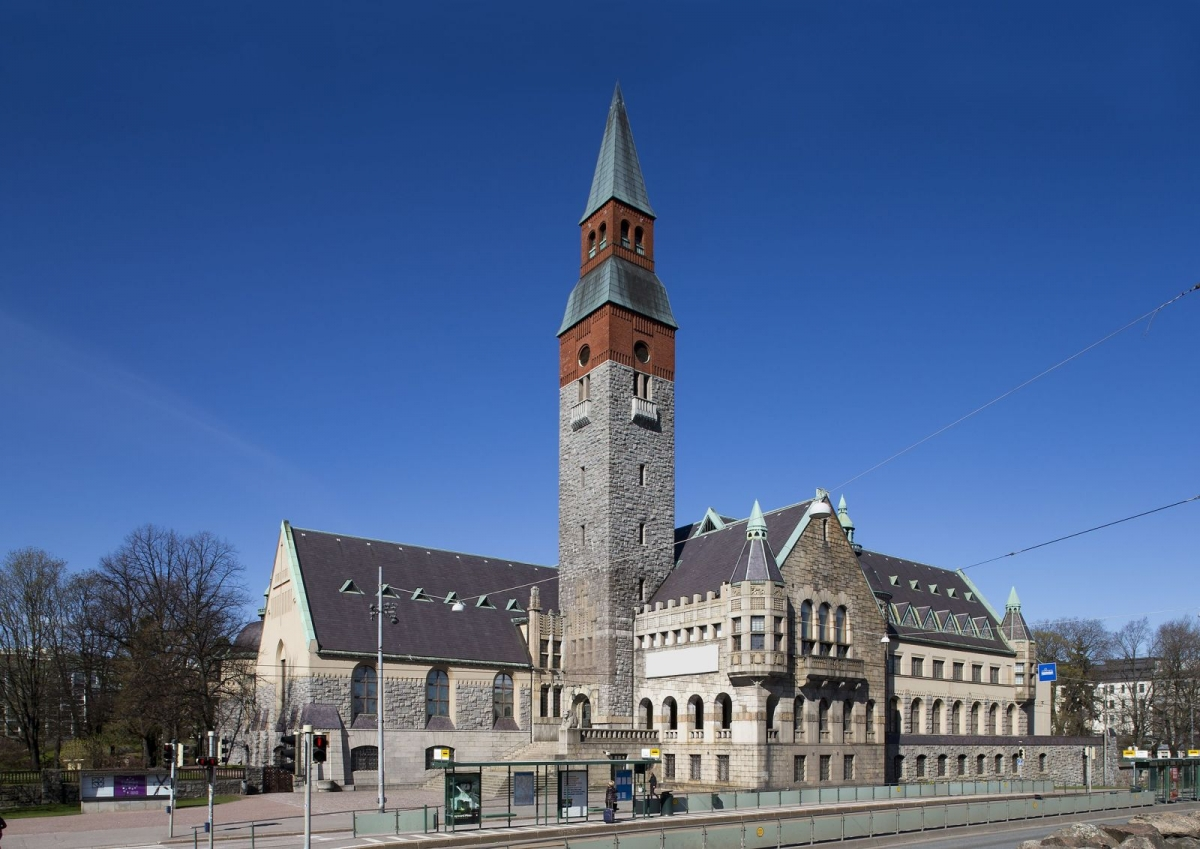 National Museum building was designed by the Finnish architects Herman Gesellius, Armas Lindgren and Eliel Saarinen. With its granite façade and steatite decoration, the building is one of Finland's most significant national-romantic works of architecture. The museum was opened to the public in 1916. A café and museum shop are also located in the museum.
Design District Helsinki
Helsinki offers an ideal place to get to know Finnish design and to buy top-class Finnish design products. Located in the centre of Helsinki, the Design District Helsinki is an area full of design and antique shops, fashion stores, museums, art galleries, restaurants and showrooms. Here you can find the most interesting names, classics, trend-setters and so much more.
More information can be found here